January 30th, 2018 by Mike Vasilinda
A highly contentious plan to ease regulations on vacation rentals drew a packed house in the State Capitol today. As Mike Vasilinda tells us, angry hotel owners who feel their future is on the line had to be escorted from the hearing.
A standing room only crowd gathered outside the committee room a half hour before the hearing on vacation rentals.  Before the committee, two competing proposals. One to give all regulation to the state.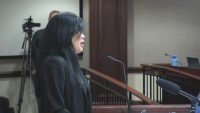 Lori Killinger represents the Florida Vacation Management Assn."This all started because of the morass of local ordinances that have been adopted since 32014 that have caused a significant unpredictability around the state" she told the Committee.
The other to let local governments regulate safety. Cari Roth represents the City of Holmes Beach.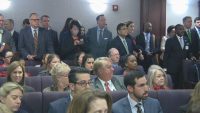 "Fire safety. Pool safety. Those aren't getting caught unless local government inspects the property" cautioned Roth.
Of the 100 plus in the room, only one resident, a Tallahassee realtor, Nga Nguyen,
spoke about her Air BnB rentals.
"It gives us a little bit extra money to go visit grandchildren."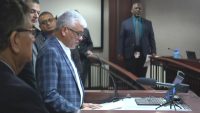 Hotel owners from one end of the state to the other complained they were being slowly pushed out of business. Henry Patel cautioned "Do not start a fire you can not put out."
When the time came for a vote, Patel had to be escorted from the hearing.
"I just want finish up".
"Mr. Patel, you're not in charge here. I'll have you escorted out of here."
The chastising came from Chairman Tom Lee. He is in the middle, trying to find a compromise
"Most of these people are doing a good job regulating the renters in their properties. It's the bad apples that spoil the bunch and that's what we're here trying to fix" Lee said afterward.
As the legislation is written, the state would only audit one percent of the homes that are being rented.
But everything and anything is subject to change as both sides fight for a bigger piece of the tourist rental cash cow.
The hotel owners vowed to come back to the next committee to make sure their concerns are heard.
Posted in State News |

No Comments »