April 11th, 2018 by Mike Vasilinda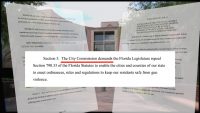 Another local government body in the State Capitol, the Tallahassee City Commission, is slated to vote Wednesday on a resolution demanding the legislature repeal a law that prohibits local governments from enacting stronger gun regulations than the state. We asked City Commissioner Gil Ziffer about the use of the word demand.
"Using terms like we'd like it to happen, or it might happen. We really want to demand that it happens. Preemptions are something that we are very much opposed to and the preemption that the legislature imposed back in 2011 restricting us from anyway regulating guns is wrong, and we want to try and fix that" says Ziffer, who is retiring after his term ends in 2018.
Under the law commissioners want repealed, elected officials who vote for stronger gun laws face fines, removal from officer and having to pay their own legal fees.
Posted in State News |

No Comments »