May 25th, 2018 by Mike Vasilinda
Teachers from at least four states, from Arizona to West Virginia, went on strike this spring. 50 years ago, in 1968, Florida teachers were the first to walk out, but as Mike Vasilinda tells us, it's not likely to ever happen again.
In 1966, Claude Kirk became the state's first Republican Governor since reconstruction. He was elected on a promise to make Florida schools the best in the nation.
"Governor Kirk proposed to cut one hundred fifty million dollars from the state budget for public education" read an announcer in a 1968 report.
The proposed cuts came as growth was skyrocketing, crowing schools.
"There were classes in the hall room" recalls one former teacher.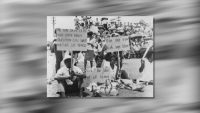 Florida Education Assn. President JoAnn McCall says in the spring of 1968 at least 30 thousand teacher walked out.
"Teachers in mass, thirty thousand signed their resignation letters and said, I quit. I'm not working here anymore. I'm out" says the FEA president.
The strike lasted three weeks. 
"The teaching profession will never be the same again" said the strikes eader, claiming victory.
In 1974, lawmakers gave teachers collective bargaining rights, a state pension, an a prohibition against any future strikes.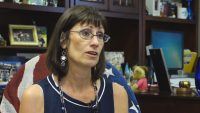 "But the biggest kicker for everybody is that their retirement would be revoked" says McCall.
Schools this coming year will see an average increase of just forty seven cents per student come fall,
This past week, an effort by a small number of lawmakers to get the entire legislature back in town to deal with school funding failed.
So instead of striking, like other states, teachers here are suing and taking their case to voters.
"Forty-seven cents is not enough to maintain or do anything in your schools" says McCall.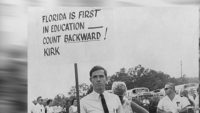 And candidates who promise and don't deliver, like Kirk in 1968, might remember he was a one term Governor.
The teachers are also in court, challenging school funding levels, legislation giving charters more tax dollars, and when a new education bill takes effect in July, they promise another suit to stop giveaways to for profit schools. 
Posted in State News |

No Comments »