July 31st, 2018 by Mike Vasilinda
Hours before President Donald Trump arrived in Tampa, the man he came to campaign for released a new ad showing he's all in for the President.  Republican Gubernatorial hopeful Ron DeSantis is making sure voters know he's for Trump and vice versa.
If you didn't know that Ron DeSantis had been endorsed by Donald Trump, his latest ad shows he's in with the President one hundred percent.
"He's also an amazing dad" says wife Casey in the spot. "Ron loves playing with the kids." DeSantis is then seem helping the child with building blocks saying "Build the  wall." "He reads stories" says Casey. DeSantis, reading Trump's book Art of the Deal says "Then Mr. Trump said, You're Fired. I love that part."
Political scientist Carol Weissert calls it…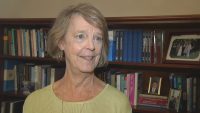 "Very Clever. It's funny, it's cute. It's gonna be tweeted and retweeted and watched a lot more than more substantive ads would be."
Conventional Wisdom suggests that any candidates that goes as far right as DeSantis did in this spot hurt themselves in tNovember, but this might be the year conventional wisdom is thrown out the window.
"I don't think he's worried about the general election at this point" says Weissert.  "I think he's worried about the primary and it's going to help him in the Primary, I think."
Also seen in the spot, DeSantis teaching his child to read by holding up a Trump sign and reading from it. "Make America great again.People Say Ron is all Trump, but he is so much more…to which DeSantis responds: "Big Lead…so good."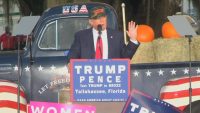 Polling suggests that DeSantis has overcome Agriculture Commissioner Adam Putnam's once commanding lead…due almost exclusively to the Presidents endorsement says Democrat Political Consultant Steve Vancore.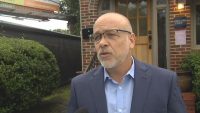 "There's no doubt that the Trump bump is real and DeSantis got a lift from it. Now, with about fifteen to twenty percent undecided, the question will be who's better for Florida."
And as one political scientist put it, Democrats who think the President will be DeSantis's downfall in November might be taking their cues from Hillary Clinton's playbook.
While Governor Rick Scott was scheduled to appear with the President this afternoon, he has drastically curtailed both his appearances and praise for Donald Trump since the US Senate race began heating up. 
Posted in State News |

No Comments »