March 11th, 2013 by flanews
Gay and lesbian couples in Florida are hoping this is the year state lawmakers legalize domestic partnerships. A bill creating a domestic partnership registry has stalled in its first senate committee. As Whitney Ray tells us, to get the bill moving again equal rights activists are speaking out.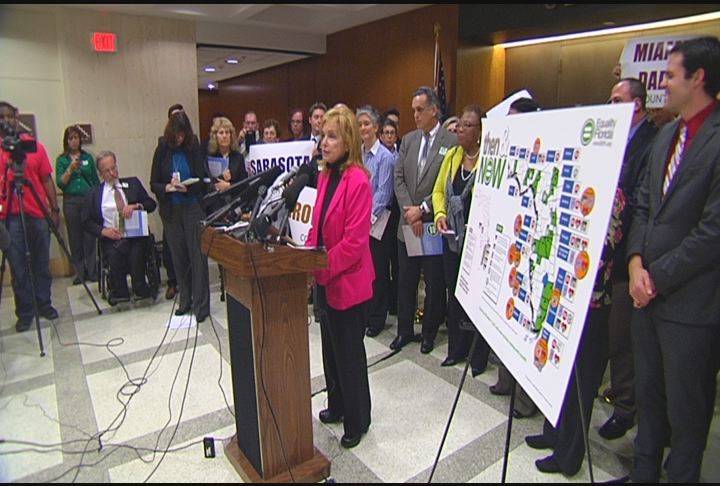 Democrats, attorneys and gay rights activists gathered on the fourth floor of the state capital Monday trying to change minds about same sex couples.
Nadine Smith is the Executive Director of Equality Florida, a gay and lesbian rights group backing a bill to set up a domestic partnership registry.
"It enjoys broad public support. The business community has been one of the leading voices saying we need these protections," said Smith.
The bill would allow same-sex couples to register their civil unions. The legal recognition would allow them to visit each other in the hospital, in prison and make emergency decisions for each other.
"In the moments when it matters the most, in case of an emergency, rushing somebody to the hospital, there's no guarantee you're going to be treated with the respect your family deserves," said Smith.
The idea has already been vetted by senate committee but the bill's sponsor pulled it fearing there wasn't enough votes to pass the legislation.
State Senator Eleanor Sobel is the sponsor. She's made some changes to the bill in hopes of getting it moving again.
"This bill now is what the committee will agree to," said Sobel.
Opponents see the partnership bill as a step toward legalizing gay marriage but in reality voters have the final say. In 2008, a constitutional amendment was passed writing a gay marriage ban into the state constitution.
Domestic partnerships are recognized in many Florida cities and counties. Just under half of the state's population lives in areas were they are legal. Supporters of the bill say the local ordinances have created a confusing patchwork and the bill will clear things up.
Posted in State News |

No Comments »