October 26th, 2016 by Mike Vasilinda
Each of Florida's  five statewide elected Republicans continue to support Donald Trump. But not all of them are jumping whole hog on the Trump Train.
Governor Rick Scott was the first statewide elected Republican to jump on the trump train.   He was followed by Pam Bondi, Jeff Atwater, and Adam Putnam. All three supported Jeb Bush and only adopted Trump after the primary.
Bondi now calls calls some comments Made by Trump
"Disgusting. period" says Bondi. But she remains strongly behind the Donald, based on who he says he will appoint to the US Supreme Court
"He will appoint conservative justices" Bondi told us.
After backing Bush, Atwater and Putnam both say they will vote for Trump, but neither is working overtime for his election.
"I haven't been asked to be included and we've been plenty busy but if the occasion presents itself, we're committee to helping republicans get elected across Florida"
Q:So if you were asked you would not shy away from going to a Trump event?"
"No, no, I wouldn't" Atwater said Tuesday, hours before Trump arrived in the Capitol City.
Governor Rick Scott still heads Trumps  fundraising efforts, but he has made few appearances with the candidate, and won't be at Trump's Tallahassee rally Tuesday night.
"I'm focused right now on, we've got the Zika, we've got, um, I'm trying to figure out the things we can do better in case we have another hurricane. That's my primary focus right now."
Rick Scott appears to be running for a higher office, and when it comes to Agriculture Commissioner Adam Putnam, it's pretty clear he wants to be Governor. But when it comes to the CFO and the Attorney General, well, their political future is somewhat murky.
US Senator Marco Rubio also calls Trump the best alternative to Hillary Clinton, but has dodged appearances with the Donald.
New polling suggests Hillary Clinton leads Donald trump in Florida by only two percentage points.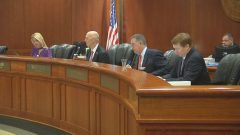 Posted in State News |

No Comments »