November 21st, 2016 by Mike Vasilinda
The State Senate this afternoon dedicated it's remodeled chamber. Gone are a 1970'a era of light wood, replaced by maghony emblazoned with the words in God We Trust. There's a new 120 HD TV and a sophisticated new voting system. The cost, six million, but outgoing Senate President Andy Gardiner says the facelift was long overdue.
"After four decades of use with only minimal updates, out chamber was showing it's age. The worn carpet had become a safety issue. we needed a new ac unit. We needed ti incorporate current building codes and we wanted to improve accessibility for those with unique abilities" said Gardiner as hundreds looked on.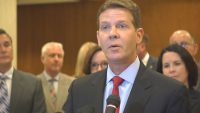 Gardiner says the timelessness of the design, which incorporates some features of the 1948 chamber, which was demolished when the new Capitol was built in the 1970's,will require few modifications in the future.
Posted in State News |

No Comments »