December 6th, 2016 by Mike Vasilinda
Attorney General Pam Bondi added fuel to speculation that she is bound for the Trump administration, but as Mike Vasilinda tells us, Governor Rick Scott is hoping she will stay.
Attorney General Pam Bondi spent two hours in Trump Tower on Friday. Afterwards, she said three times she is the Attorney General. "Right Now." Right now I'm the Attorney General of Florida." I'm AG of Florida right now" when asked about job prospects.
Bondi was back in the state Capitol Tuesday. She dodged the question of a job offer once again.
"Frankly, I don;t think anyone should come out of those meetings and talk about anything that was said in those meetings" says Bondi.
Speculation has Bondi becoming the next drug czar. And the Attorney General would not commit to finishing out the remaining two years of her term.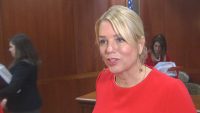 "I knew you were going to be asking that question today and I'm not prepared to answer anything. I'm not going to confirm or deny anything right now" leaving little doubt she has been offered a job.
The Governor told us he's not yet developed a short list to replace the Attorney General.
"Look, I have, what, 29 hundred appointments to boards and commissions.  So I focus on the things that are infant of me. I'm hoping that Attorney General Pam Bondi stays" says Rick Scott.
Bondi was the only Republican elected statewide to miss last weeks legislative swearing in. We asked if her duties on the Trump Transition team were taking most of her time.
"I hope not. I've been busy more with National Attorneys General than anything, fighting this war on drugs. I was in DC with them and then in Ft. Lauderdale as well" which only bolsters her anti drug credentials.
And while Scott may not have a short list of potential replacements, Others do. The list includes former Scott Job Czar Jesse Panuccio.
The Constitution allows the Governor to fill unexpired terms until the next election. No Senate confirmation is necessary. Bondi and anyone who would be appointed to the job are second in line of succession if something were to happen to the Governor.
Posted in State News |

No Comments »