December 12th, 2016 by Mike Vasilinda
Music icon Bob Dylan won a Pulitzer this year for his impact on music and culture, penning lyrics about marijuana and getting high. Now, attitudes about marijuana are changing in the state Capitol decades after Dylan started signing protest songs.
7 of every ten voters said yes to medical marijuana last month.The power was quickly recognized at the state capitol.
"So a lot of Marijuana? 800 pounds?
"Yes Sir" is what Governor Rick Scott asked of a convicted pot smuggler at a recent clemency hearing.
The states executive clemency board recently restored the rights of three convicted pot smugglers.
"It looks like you''ve done fine since. I move to I move to grant restoration of civil rights" are the words Stephen Beck has been waiting to hear.
Largo marina operator Joseph Brenna did a lot of time.
"I ended up with an eleven year jail sentence" he told the board
and Robert French got caught in the middle of a DEA sting.
"I knew better, but I did it."
Q:"A lot apparently"
"Right, a lot" he said afterwards
Each can now vote,even run for office. Dwight Ferguson wasn't so lucky. He wasn't smuggling pot, but exotic pythons.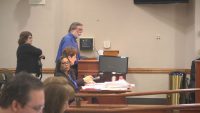 Agriculture Commissioner Adam Putnam wasn't happy. "Everyone has the sense that this is an inconsequential crime util we have to spend millions of dollars mitigating the environmental harm that comes from these things" Putnam told the clemency seeker.
Attorney General Pam Bondi was also displeased."I have a problem with this. I have a big problem."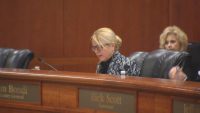 Rick Scott took the case under advisement, which means there was no decision one way or the other.
Jeff Sharkey of the Florida Marijuana Business Association sees a sea change in attitudes.
"The reefer madness rhetoric is gone.  71 percent of the people voted on it, so I think people are taking  a much more practical pragmatic approach to people who have used it." says Sharkey.
And now,lawmakers are saying the penalties for non violent offenders need to be reviewed.
So as Bob Dylan once sang, "the times they are a changing".
Posted in State News |

No Comments »