December 21st, 2016 by Mike Vasilinda
Contentious pro gun legislation appears to be on the fast track in the State Capitol in the coming year, and it is proof that elections matter.
The NRA's top priorities stalled last year. Open Carry Campus Carry, and changes to Stand Your Ground all died in committee. On Tuesday, the new Senate President was asked about their future this time around.
"I've always been a proponent of the second amendment rights of law abiding citizens"
says Sne. Joe Negron (R-Stuart).
Hours later, Senate President Joe Negron referred the legislation to three committees chaired by second amendment advocates. The referrals pleased the NRA's Marion Hammer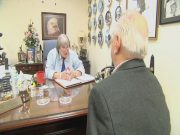 "This year the bills will get a fair hearing" says Hamer.
Last year, the Senate Judiciary Chairman promised to hear the bills, then didn't, then bragged about how he sandbagged everybody. He wasn't reelected.
Legislation filed by newly elected State Senator Greg Stube is the kitchen sink of gun rights: Open Carry, Concealed Carry on Campus, arming and training school personnel, and allowing  guns in non secure areas of airport terminals.
"Carrying in legislative committee hearings," added Stube. "local government hearings, secondary schools, carrier centers."
Stube's bill also allows lawyers to carry to the courthouse door for security.
"Whoever is in charge of that courthouse would secure your firearm. When you came out of the courthouse you could re-get your firearm" he added.
Hammer is quick to point out getting a hearing is not the same thing as a bill becoming law.
"I never make predictions. I just do my homework and work hard" she says.
And she seldom loses in the long run.
The Senate President did not refer the bill to the Criminal Justice Committee, who's Chairman is a Democrat with anti second amendment votes as a House member. Lawmakers return to the Capitol for committee hearings on January 9th.
Posted in State News |

No Comments »