January 20th, 2017 by Mike Vasilinda
As Donald Trump prepares to become the 45th President of the United States, it is in part because of voters like a woman restauranteur who owns a small diner just miles west of the state Capitol.
Pam Buchanan is the chief cook and bottle washers at Kendal's Kitchen,  the restaurant she inherited it from her grandmother 8 years ago.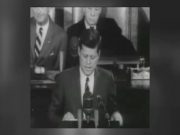 Pam is 56. She was born the year JFK was elected. She was eligible to vote for Ronald Reagan in 1980 but didn't.
"I wasn't interested. I never got interested in politics, until now" she told us.
Until this past November,, Pam had never voted for anyone, missing 9 straight presidential elections. Then Donald Trump caught her attention.
"What did he do?" we asked.
"He seemed like and honest man, he's got a backbone.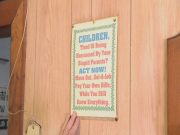 If anything, this sign sums up Pam Buchanan's personality and outlook on life.
In other words, stand on your own two feet, pull your own weight, make something of yourself.
"Things need to turn around. You know, you need too work for what you got instead of having it handed to you. I've never had anything handed to me in my life" says Pam.
Most customers are regulars who come for the  set daily lunch specials.
But not Bo Lawrence,, who's also  Trump voter. He came to meet Pam after hearing her story of being a first time voter.
"I've talked to people who I work with who are regulars here and know her, and I heard a lot of good stuff about the restaurant" says the first time customer.
And so, for someone who never voted before. Pam Buchanan feels pretty good about her vote,
"If he's more of the same, how are you gonna feel" we asked.
"Kick myself in the butt" said Pam as she laughed.
Before inheriting the restaurant, Pam worked part and full time for her grandmother for more than a dozen years.
Posted in State News |

No Comments »