February 1st, 2017 by Mike Vasilinda
The Florida Why Courts Matter Coalition is calling on Floridians to educate themselves on Donald trumps nominee for the US Supreme Court. The coalition wants Floridians to call on its two US Senators, Bill Nelson and Marco Rubio to thoroughly vet the judges record, which coalition member Damien Filer says is not one of inclusion.
"He has a long record on the bench" says Filer. "It's a record of siding with Wall Street and Corporations against American workers. Its a record of siding with corporations against women's rights to reproductive health care. It's a record of siding with corporations against a clean environment, clean water and air. And those are the kind of values I think we should be looking to be reflected in terms of what American want in a Supreme Court, which really is there to be a check and balance on out political system."
The coalition believes Neil Gorsuch's nomination poses a threat to the rights of women, immigrants, LGBTQ people, and working families, but most elected Republicans in Florida are cheering the choice.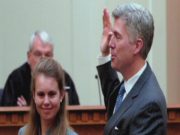 Posted in State News |

No Comments »