February 7th, 2017 by Mike Vasilinda
Legislation filed today would require all future franchisee contracts to provide more protections for the Floridians who buy into fast food restaurants and other types of franchises. State Senator Jack Latvala got interested in the legislation after exploring opening a restaurant and found he could be forced out at the end of a few years, losing most of his investment.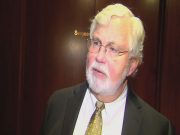 Sot: Sen. Jack Latvala
R-Clearwater
"I think the contracts are one sided. They favor these big corporations at the expense of small business, hence the name Protect Florida's Small Business act" says the sponsor.
But one Fast Signs franchisee says government doesn't need to get involved.
"If there are abuses, it's like anything else" says John Buck. "You deal with he abuses one on one head to head, whatever that takes. I don't think you need government intervention."
Under the legislation, contracts would have to be renewed if the franchisee was in substantial compliance with the contract. Now, The franchisor has the right to cancel at the end of the term.
Posted in State News |

No Comments »