February 8th, 2017 by Mike Vasilinda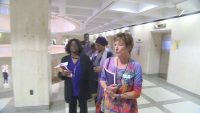 More than a hundred volunteers from across the state were in the Capitol today, asking lawmakers for more money to research Alzheimers and to find help for care givers. Pamala Gaylor came from Clearwater to share stories about her mothers five year battle with Alzheimers.
"It's very hard when you have to quit your job to take care of your family member, because you don't know how to do this, what the diseases bring to the fore. It was just very tough. You feel all alone, even though you have family support, because its a hard disease. It will take the person who is the care giver out, as well as the person who has the disease" says Gaylor."
Last night, the state Capitol was lit with purple lights to honor those with the disease.
Posted in State News |

No Comments »