February 8th, 2017 by Mike Vasilinda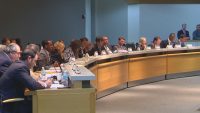 A House panel voted 10-5 today in the state capitol to abolish 28 state run incentive programs, including Enterprise Floria, the state's business development arm. CEO Chris Hart says he's tightened travel procedures and reduced salaries since taking over the troubled agency in January.
"We understand the taxpayers is ultimately funding economic development" says Hart. "Its a public good, just like transportation and education are public goods. And because of that, we recognize that taxpayers are out shareholders, and we're always looking to bring the highest return to the shareholder we possible can."
Keeping funding for Enterprise Florida is a top priority of the Governor.
Posted in State News |

No Comments »