February 8th, 2017 by Mike Vasilinda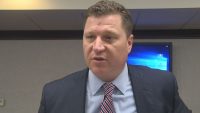 Legislation filed today in the state Capitol would allow people to donate their electronic medical records after their death to research. All or just part of the records could be donated. Sen. Jeff Brandes says researchers crunching the data in the records could be lifesaving.
"Ultimately those medical records should be able to be donated to for longitudinal studies for research and science that's currently not being done" says Brandes. "We think we'll be the first state. we think we'll save thousands of lives by making this available to for research"
the legislation allows records to be donated anonymously.
Posted in State News |

No Comments »