February 9th, 2017 by Mike Vasilinda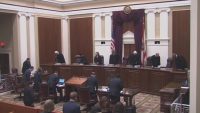 A House committee has approved legislation to limit judges on appeals courts and the Florida Supreme Court to just two, six year terms. The vote came after the committee was told the change would lead to inexperience on the bench and longer wait times for court rulings. Tampa State Representative Sean Shaw is the son of the late Supreme Court Justice Leander Shaw. He says the legislation is not needed.
"I'm still not sure there is a problem that we are addressing. If you do not agree with certain decisions of the Florida Supreme Court or an appellate court, good. That's okay. It means the separation of powers is working" says Shaw.
Shaw's father, Justice Leander Shaw, served 23 years as an appellate judge, and successfully faced two retention votes.
Posted in State News |

No Comments »