February 15th, 2017 by Mike Vasilinda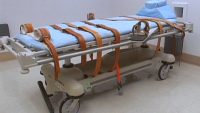 Florida is one step closer to a viable death penalty after the State Supreme Court ruled the states 10-2 jury recommendation was unconstitutional late last year. As many as 50 prosecutions are on hold as a result. State lawmakers toady moved a unanimous jury verdict bill forward. Sponsor Chris Sprowls says it is key to getting the death penalty functioning again.
"The ruling has absolutely put the death penalty to a standstill. What we are trying to do here is a limited approach" says Sprowls. "We are addressing that issue and only those issues.  the issue that they raised is that they deemed our statute which requires a 10-2 jury recommendation for the death penalty be unanimous. that is what the bill does. Comes in changes 10-2 to unanimous And therefore the hoe going forward  si the House and Senate pass this bill, the Governor signs it, and we have a working death penalty statute."
The bill has one more hearing next week and will likely go to the Governor in early March for his signature.
Posted in State News |

No Comments »