February 16th, 2017 by Mike Vasilinda
The war of words over incentives to luring businesses and tourists to Florida is heating up in the State Capitol. As Mike Vasilinda tells us, Governor Rick Scott is making it personal.
When lawmakers passed a bill abolishing the states economic development and tourism promotion agency, Governor Rick Scott hit the road, scheduling stops in House members districts who voted for the abolition. Here's what he said in Panama City.
"And one of them is your state Rep. right here, Jay Trumbull, who voted to abolish Enterprise Florida and abolish Visit Florida. How can anybody do that" asked Scott.
He did the same thing to Rep. Paul Renner of Palm Coast. Renner is the sponsor of the legislation.
"How did that feel?" we asked.
"You know what, I think we agree with the Governor on many many topics, and I'm going to continue to talk about those we share in common" Renner told us.
Scott chose the Brevard Zoo to announce tourism numbers Thursday. Rep. Randy Fine represents Brevard.  He wrote Scott suggesting the two talk in person..not through the media. Fine wouldn't say anything more to us. "The letter speaks for itself."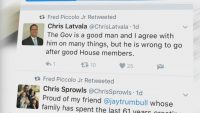 "You know, I view it as being on one big team" say rep. Chris Latvala, who tweeted
support for Turnbull and others in the Governor's crosshairs.
"You know I was sad to see them targeted the way that they were,"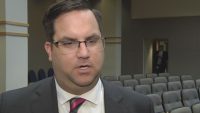 Of the Governor's tactics, one House member who wouldn't go on camera told us : I was bullied as a kid, I'm not going to be bullied now.
And now House Speaker Richard Corcoran has released a video of news clips criticizing the agencies Scott is fighting for.
"The market place contains incentives enough to warrant continuing these activities without a government subsidy" boomed a clip from Ronald Reagan to end the video.
Scott and the House Speaker are reportedly not speaking to each other. A bad omen weeks before the legislative session begins.
Posted in State News |

No Comments »