February 20th, 2017 by flanews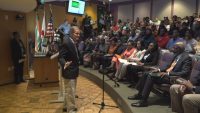 Senator Bill Nelson was in Tallahassee speaking to students at the Humphries Science Research museum at FAMU. Nelson talked to students about the importance of STEM education, the future of the space program, and his experience aboard Space Shuttle Columbia.
Nelson says he's in favor of a special investigation of the Trump campaign's alleged communication with Russia leading up to the election. "I think if the American people really want to be satisfied that we know all of the facts when it comes to how the Russians have hacked us" says Nelson.
Nelson says an independent panel is needed.
Posted in State News |

No Comments »