February 24th, 2017 by Mike Vasilinda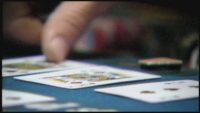 Headlines across the state this morning screamed House and Senate at odds over gambling plans. Both Chambers are advancing differing measures. The Senate would like to allow slots in the 8 counties that have approve them, add some blackjack in South Florida and get a new deal with the Seminole Tribe. The House is more interested in a new seal with the Tribe. But House Speaker Richard Corcoran does't think the two chambers are "at odds".
"I don't think you have ever seen a House and a Senate both moving bills, abbot different, this early. I think that prognosticates the potential we could see resolution there" says Corcoran.
The biggest driver of a gambling deal this year is the need for increased state revenues without raising taxes.
Posted in State News |

No Comments »