March 8th, 2017 by Mike Vasilinda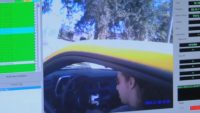 Every police officer who comes in contact with the public would be required to wear an operating body camera under legislation introduced in the State Capitol. Sponsor Al Jacquet argues police have fewer encounters go wrong when wearing a camera and that the legislation is designed to protect police.
"So that person you pull over sees the officer with a camera, they are going to be less likely to assault that officer. They are going to be less likely to make a false complaint on that officer" says the sponsor.
Q: And every officer stopping someone would have one in the state of Florida?"
"Yes, because ever officer's life is important in the state of Florida."
The legislation is yet to be analyzed by staff, who will be tasked with deciding how much the camera would cost if fully implemented.
Posted in State News |

No Comments »