March 14th, 2017 by Mike Vasilinda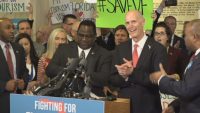 Hundreds of tourism operators are in the Capitol for their annual tourism day, but this years event is taking on special meaning. That's because the House has already voted to eliminate the jobs incentive agency and cut funding for Visit Florida, the state's tourism arm. Governor Rick Scott spent part of the afternoon rallying the troops to strong-arm lawmakers into keeping both programs and to fully fund both agencies.
"You know, its important for jobs in our state. As you know, I travel the state everyday. People care about jobs. enterprise Florida 's done a great job getting people jobs. Visit Florida's done a great job getting people jobs. I'm gonna fight everyday to make sure we keep doing it" Scott told reporters afterward.
Lawmakers have been unhappy with multi million dollar contracts, pay raises, bonuses, and lavish dinners funded by both agencies. If either survives, it will be with increased reporting requirements for expenditures.
Posted in State News |

No Comments »