March 15th, 2017 by Mike Vasilinda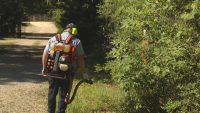 The association representing the states mosquito control districts is asking lawmakers for one point two million dollars more than last year. Andrea Leal, executive director of the Florida Keys Mosquito Control district says the money would be used to help smaller counties ramp up efforts to fight Zika.
"So this will really help those smaller counties that may not have the local funds. And that's what we're trying to do. We're trying to allow them to increase funds to be able to increase surveillance, hire more personnel if possible, to deal with this specific mosquito" says Leal.
So far this year, there have been 21 travel related Zika cases, one locally acquired infection, and 9 cases involving pregnant women. Pasco County Mosquito control director Dennis Moore says the warm winter could make the season unpredictable.
"We've had a mild winter, so I would guess there are more mosquitos that survived this winter than most, so its really difficult to predict what this spring is going to be like. Its really difficult to forecast mosquito populations based on weather over the winter" said More when asked.
The 1.2 million being asked for is in addition to an additional 1.9 million Governor Rick Scott is asking for to hire more people at the department of Health.
Posted in State News |

No Comments »