March 29th, 2017 by Mike Vasilinda
After losing a child in 2015, A St. Petersburg family is at the center of efforts to allow police to stop and ticket texting motorists, but one of the most powerful people in the state House says the cost to freedom is too high.
Lavon Reese was a Senior at FSU when she was hit and killed by a texting driver. That  was January 2015. Now the family of the St. Petersburg native is on the forefront of lobbying for tougher texting laws. Jeffrey Beaten is Lavon's cousin.
"My cousin was one of two hundred and eighteen individuals who passed away. was killed in accidents relating to texting and driving. So my family is not alone."
Q:"In one year?"
"In one year. 2015 alone" says Beaten.
The legislation has cleared two Senate committees, but Sponsor Rene Garcia of Hialeah is not optimistic.
"I think its on life support, unfortunately. I hear that the House is reluctant to move the bill."
There have been no hearings in the House. The biggest obstacle is this man. Speaker in waiting Jose Oliva. We asked for an interview. but House spokesman Fred Piccolo provided us with a statement saying the House had not yet formulated a position. This is what Oliva told us in 2013.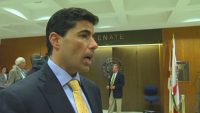 "I like everyone else want to see the end of children texting and getting killed in automobiles. Not at the expense of our civil liberties" said Olive as he was negotiating whether texting and driving would be against the law at all  back in May 2013.
House sponsor Emily Slosberg believes it could be 2021, after Oliva is out of the legislature, before the bill could pass. We asked Jeffrey how he felt about the date.
"It will be 2021 before there is a Speaker who is friendly enough to let this come up.?
"That's really difficult for me to grasp" he said.
The driver who killed Lavon Reese is serving a three year prison sentence.
The legislation would allow police to stop motorists seen texting without observing some other violation first. It carries a thirty dollar fine. In 2015, the state reports there were 45,740 accidents caused by distracted drivers.
Posted in State News |

No Comments »