April 10th, 2017 by Mike Vasilinda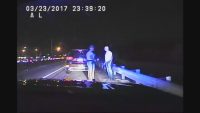 Avon Park State Representative Cary Pigman was charged with DUI back on March 21st as he headed home from a week of legislating. Today the Highway Patrol released video from two dash cams. Pigman can be seen weaving on the turnpike, crossing over the white line on the right side of the road and then over correcting by moving into the left lane. Once stopped, the lawmaker denied drinking, even though an open bottle of wine was found on his front seat.
Pigman did agree to breathalyzer tests and blew 1.4 and one point 5. A point 08 is the legal limit. Following the arrest, Pigman resigned his committee chairmanship but remains a member of the state House.
Posted in State News |

No Comments »