April 10th, 2017 by Mike Vasilinda
In 2014 three out of four voters said they wanted increased funding for land and water conservation when they approved Amendment One, but lawmakers and environmentalists have differing ideas about what that means.
Four point two million voters said said they wanted dedicated funding for land and water conservation in 2014. That was more votes than any of the four statewide elected officers up for election that year got, including the Governor,
And for the third session in a row. Aliki Moncrief, one of the organizers behind Amendment is disappointed.
"Florida Forever funding is at zero in the House right now and its at 15 point 2 million in the Senate. 15.2 million is what it got last year and the year before, and its obviously a lot less than the hundreds of millions of dollars it used to get in the past" says Moncrief.
But State Senate Rob Bradley  says lawmakers are moving closer to what environmentalists are seeking.
"We want to have a roust problem for dealing with problems like the Everglades. Like the St. Johns River, like our springs" says Bradley.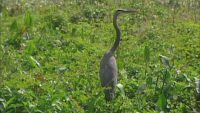 Plans for Everglades restoration are taking a big part of the land money, and environmentalists agree.
And the question environmentalists are asking lawmakers: What part of Land Acquisition Trust Fund don't you get?
Cash that used to come from General revenue but now comes from the trust fund is now being used for law enforcement efforts at the Fish and Wildlife Conservation Commission and at the Forestry Service.
"They didn't say compliance assistance for polluting entities. They said Land Acquisition trust Fund" emphasizes Moncrief.
On the bright side, Amendment One organizer Moncrief says their are signs lawmakers are slowly paying more attention but at the current rate, it could take decades before voters intentions are fully honored.
Environmentalists are working on several amendments they hope will be offered whenThe House and Senate will discuss the budget on Wednesday.
Posted in State News |

No Comments »