April 12th, 2017 by Mike Vasilinda
The Florida Senate has approved a massive water bill by a vote of 36 to 3. The legislation allows a reservoir to be built to avoid discharges that fouled waterways on both coasts last summer. The fix is not cheap.
Algae fouled water on both the lower east and west coasts let summer, caused by discharges from Lake Okeechobee, gave Florida a black eye world wide. The legislature's response: A one point five billion dollar plan to deepen existing reservoirs to hold billions more gallons of water. Sponsor Rob Bradley says it can't be allowed to happen again.
"If you're the vacation Capital of the world and you're selling beaches and rivers and springs, and toxic discharges are happening in those waterways, that's not a good calling card" says Bradley.
The water would be treated before being released to the south, to flow into Florida bay.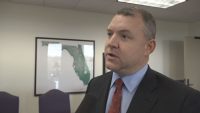 "So, the reason it hasn't happen so far is because this is a really hard thing to do" added Bradley.
The plan has the blessing of the Sierra Club.
"It will rehydrate the Everglades, reduce the discharges to the Caloosahatchee and St. Lucie. Help recharge the acquirer for the eight million people in South Florida, and get clean fresh water to Florida Bay to help address the sea grass die off" says Sierra Club lobbyists Dave Cullen.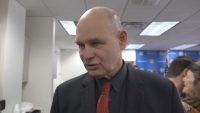 One provision of the bill has Democrats concerned there's a hidden agenda. Sen. Jose Javier Rodriguez says it would violate a long held believe in Florida when it comes to water.
"There's a concern it might take us in the direction of privatizing water, which is a huge concern. Um. You know Florida has a long tradition of water being a public utility" says Rodriguez.
While supported by environmentalists, they are are objecting to the use of 200 million dollars in Amendment one money for phase one of the project. Voters dedicated that money to land and water conservation.
The plan is the brainchild of the Senate President. There is no House companion, but sponsor Bradly says miracles can happen when pushed by the right people.
Posted in State News |

No Comments »