April 13th, 2017 by Mike Vasilinda
Committees of the Florida House and Senate each voted to abolish the state's no fault auto insurance law today. The system has resulted in many fraudulent claims, and no one is sure if the reform will end the fraud.
Adrian Groham was T-Boned by an uninsured driver with two kids in the car. She quickly exhausted the ten thousand dollars in Personal Injury Protect insurance that she carried.
"My daughter was airlifted and we were brought to the hospital. All that was gone.
It was nothing else to pay for that" says Groham.
Adrian was brought to the Capitol by lawyers favoring legislation ending Personal Injury Protection. It would be replaced with a requirement for two and a half times more bodily injury coverage. Sponsor Erin Grall says even with more BI, rates should still go down.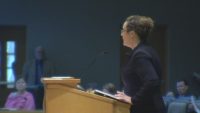 "Decrease of about eight percent or 81 dollars per policy" Grall told the committee.
But advocate Mark Cederberg says higher coverage limits will cause more to go without insurance,
"And who's going to get hit the hardest with having to pay for that increased BI coverage? It's gonna be the people who can least afford it" said the Orlando Attorney.
A skeptical Jared Moskowitz voted yes…but had this surprisingly candid remark.
"I just cant think of an example where government has sone something with the intention of lowering insurance rates and its had that intended purpose" quipped Moskowitz.
While the trial lawyers and the insurance companies seem to be pointing fingers at each other, a third group says what's really needed is a deadline for insurance companies to pay claims.
Legal reform groups say little will change with the bill.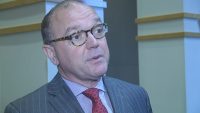 William Large is the CEO of the Florida Justice Reform Institute.
"You're gonna have a litigation system that has a pot of silver under it be replaced by a litigation system that has a pot of gold underneath it" says Large.
The legislation easily passed.
A timetable would force lawyers to settle weak cases quickly lowering legal fees.
Posted in State News |

No Comments »