April 14th, 2017 by Mike Vasilinda
The people who guard our state prisons are among the few who are likely to get raises from state lawmakers this year, but , even the ten percent being sought may not stem staff turnover that has lead to dangerous conditions for both officers and inmates.
Statewide, only one in four officers has more than two years experience. in February the vacancy rate at Franklin Correctional was 24 percent.
Inmate Jeffrey Flynn has paid the price for low staffing levels. He was stabbed by another inmate.
"I went into shock. I lost most of my blood, and they ended up having to bag me on both arms just to stabilize me" Flynn said of the attack.
Flynn is a non violent offender doing four years for kidnapping his own son. In addition to being nearly killed, he's seen what not having enough staff is doing to the prison system.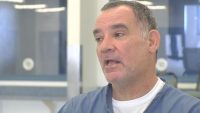 "Everywhere you go, there are groups. Well just call them groups" says Flynn.
"Gangs?"
"Yeah, and they target people and they have cell phones."
"why are cell phones so important?:
"Contact the outside world to run their business."
"Drug Business?"
"I don't know" he concluded.
The budget being negotiated by state lawmakers would give the prison system about 40 million more than last year.
"Help is on the way"  lawmakers said In March, when the Department got a thumbs up from lawmakers after being told violence inside against staff and inmates was up over 50 percent.
The Department is asking lawmakers for enough to give everyone a ten percent raise, and to included a ten thousand dollar hiring bonus in some prisons.
But ten percent raises aren't likely to stem the bleeding. After a year on the job, officers can get a job at a local jail and earn ten thousand a year more, and be safer .
Gang activity, according to the Department of Corrections, is up by over forty percent in the last six years.
Posted in State News |

No Comments »