May 5th, 2017 by Mike Vasilinda
Legislation expected to be approved by the House later today will give thousands of parents an increase to send their kids to private school. As Mike Vasilinda tells us, the debate also turned into a debate over lackluster funding for public schools this year.
The state's voucher program paid for 98 thousand kids to attend private schools this year. The awards have not kept up with incases in private school tuition and legislation seeking an increase provoked a lengthy debate.
Sen. Jeff Brandes ( R-St.Petersburg) says the program is working.
"When we have parents who have choices on where to send their kids, the world gets better."
"Freedom works" said Ocala's Dennis Baxley.
Democrats used the debate to point out that per student public school funding is actually going down this coming year.
Sen. Bill Montford (D-Tallahassee) is a former School Superintendent.
"The basis student allocation this year, next year, will be twenty seven dollars less than it is this year."
Sen. Gary Farmer (R-Broward County) compared state spending to the national average.
"We're four thousand dollars below the national average on per student funding" says Farmer.
One reason school funding is so low is because the House refused to go along with using increased property values to fund schools.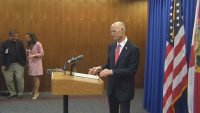 Rick Scott had proposed using the increase to give schools five hundred million more.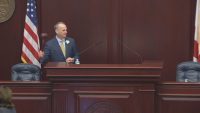 The House called it a tax increase. Now schools will have less.
"It's one of the worst I've seen.
when it comes to the budget says former public school lobbyist Marshall Ogletree. He worries about the long term trend.
"Once you lower taxes, it's very difficult to get them back.  And that has been a source here school districts could get a little extra funding to make a difference."
The legislation does benefit public schools in one aspect. Parents sending their kids cross district to stay in public schools will see a 250 dollar increase in money for transportation.
The 240 million additional cash going to schools this year was offset by 24 thousand new students expected next fall.
Posted in State News |

No Comments »