May 9th, 2017 by Mike Vasilinda
The ink is barely dry on the vote sheets from the end of yesterday's extended legislative session and calls for the Governor to veto a massive education bill cobbled together in secret in the final hours of the session are already being made. As Mike Vasilinda tell us, even lawmakers who voted for the bill say legislation should never be handled that way again.
The education package, crafted in secret, eliminates one end of year algebra test, adds 20 minutes of recess for public schools and eliminates a complicated teacher evaluation system. There are also 12 hundred dollar bonuses for highly effective teachers
Then there is 140 million for Schools of Hope. They are Charter schools who offer wrap around services such as health care and meals. House Speaker Richard Corcoran made Schools of Hope a condition for any budget agreement.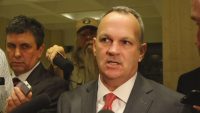 "I think it's the greatest education K-12 policy that we've passed in the history of this state. It does more to transform kids lives, free up teachers, free up administration" said the House Speaker after the session ended.
The measure only passed the Senate after this warning from Appropriations Chair Jack Latvala (R-Clearwater).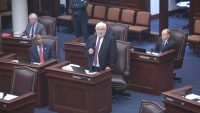 "If we don't to proceed to adopt all of those bills, then we basically have nothing."
"The Governor needs to veto it. That's the bottom line" says Luke Flynt, Secretary-treasurer of the Florida Education Association. "It is no good for parents. It is no good for teachers. It is no good for our bus drivers or anybody who works in public education."
More veto requests are coming from the League of Women Voters and the First Amendment Foundation.  Both object to the secret nature in which the bill was crafted.
And more veto requests may be coming from the Superintendents.
Sen. Bill Montford is the only former School Superintendent serving in the Legislature.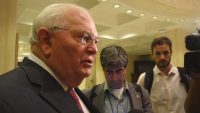 "Twenty of our districts get less money than they did in the current year. And expenses are going up" says Montford.
The House says a Rick Scott veto would be overridden. The vote in the Senate was 20-18, making an override more difficult.
Posted in State News |

No Comments »