June 1st, 2017 by Mike Vasilinda
Lawmakers waited three weeks to send the Governor the state budget. Now Rick Scott has two weeks to decide whether to veto all or parts of the spending plan, and as Mike Vasilinda tells us, he's getting plenty of encouragement to be heavy handed.
The 451 page budget hit the Governor's desk this week. He has until June 15th to accept or reject all or parts of the 82.4 billion dollar spending plan.
"Well, I'm going to review my options" is what Rick Scott has been telling reporters when asked about a potential veto.
Scott has used the veto word more this year than ever. That's because the spending plan sidelines the Governors major priorities. Visit Florida was cut by two thirds and Enterprise Florida got nothing for incentives.
"I can veto the entire budget or I can veto parts of the budget" says Scott.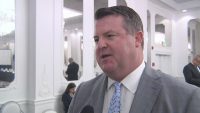 Enterprise Florida leadership declined to be interviewed before Scott speaks to them on Friday. Brewster Bevis fought for the incentives on behalf of Associated Industries.
"He's got a very interesting decision in front of him. But he's a smart man. I think he'll probably make the wise decision. Whatever that may be. We'll see" says Bevis.
The veto of the entire budget is not unheard of. Lawton Chiles called the pen he used in 1992 to ax the budget his silver bullet.
"The quicker we wrap this one up" said Chiles, "the quicker we can get on to the next one."
Scott is also under pressure to veto at least the Education portion of the budget from both state colleges and public schools.  Andrea Messina represents the Florida School Boards Association.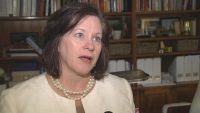 "The money that has been given to school districts is not enough to cover the increases in growth. Florida retirement contributions" says Messina.\
Lawmakers have tentatively scheduled a special session for mid to late June, just in case there's a veto they can override.
And the biggest guessing game in the Capitol right now is what the Governor may or may not do with the budget.
In addition to Lawton Chiles, Bob Graham vetoed the entire education budget in 1983. Both times lawmakers tried but failed to override their vetoes.
Posted in State News |

No Comments »