June 6th, 2017 by Mike Vasilinda
In a document leaked by a whistleblower, The National Security Agency or NSA concludes that a Tallahassee based Voter Registration software company was apparently the victim of hacking by unknown Russians prior to the 2016 election. The three page classified document says VR Systems was hacked by someone opening a Microsoft document that allowed intruders to set up email accounts and approach the elections vendors clients. Florida State Association of Supervisors of Elections attorney Ron Labasky says even with the intrusion, hackers never got access to ballots or voting software.
"I think the important thing for the public is that the story is not directed toward our ability  to cast and count ballots, unless, someone goes in and begins to remove names from the voter registration system, when people show up to vote, forcing them to cast a provisional ballot or something that nature" labasky tells us.
VR Systems says it was alerted to the danger by a client, the company advised its clients not to open the suspect email. FBI agents briefed Florida elections supervisors of the threat last August.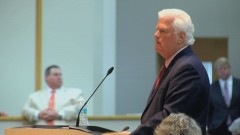 In a statement, Secretary of State Ken Detzner says "Florida's online elections databases and voting systems remained secure in 2016. We have multiple safeguards in place to protect against elections fraud and prevent any possible hacking attempts from being successful."
Posted in State News |

No Comments »