June 14th, 2017 by Mike Vasilinda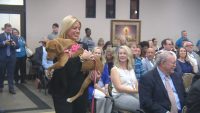 Since an stalker tried to get into Attorney Pam Bondi's home on March 19th, Florida's Attorney General has been receiving additional security. Bondi is now receiving protection 24/7 from the Florida Highway Patrol. When asked today, Bondi indicated she has received multiple threats, some of which are still unresolved.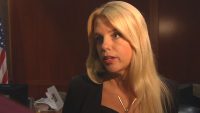 "I have had things that are pending, well, one that you know about… a man, he's in jail. He tried to break into my home twice. extremely frightening, and there are others out there that I can't talk about. As well" says Bondi.
Q:So you are receiving additional security?"
"I have been receiving security. Yes I have" she responded. "And I sleep at night as well. I haven't since the 3Am incident, but I do now, thanks to the great men and women of the Florida Highway Patrol who protect me."
Earlier this year, a  man was arrested for stalking Bondi at the State Capitol.
Posted in State News |

No Comments »