September 19th, 2017 by Mike Vasilinda
As investigations into how 8 people died at a South Florida nursing home continue, Mike Vasilinda tells us Governor Rick Scott is ordering all of the states adult living facilities to be generator equipped within 60 days.
Inspection reports from March, by the Department of Heath and Human Services, show emergency call buttons where 8 people died in a nursing home last week didn't always work. One patient was being showered only once every ten days.
The South Florida Sun Sentinel published radio conversations from EMT workers at the scene.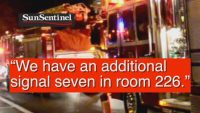 "We have an additional signal seven in room 226."
These are radio calls between responding EMT workers. A Signal seven is a dead body.
"How many signal sevens we got so far unaccounted for according to reports?"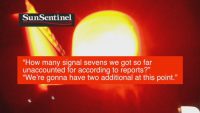 "We're gonna have two additional at this point."
Governor Rick Scott has now ordered every nursing home in the state to have a generator and four days fuel supply up and running within 60 days.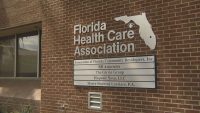 The State's nursing home association plans a summit on the generators Friday.
"There is local zoning, permitting, plans and construction. The cost of generators" says Kristen Knapp of the Florida Health Care Association.
Legislation has also been filed requiring every nursing home to have a generator.
The Governor's order requires nursing homes to have fuel for for days. Legislation already filed calls for five.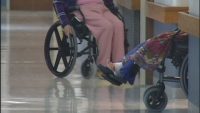 Cost and zoning regulations are seen as the biggest impediment to meet the orders timeline say Knapp.
"One sixty bed facility indicated it was a couple hundred thousand dollars, we saw a larger size building upwards of eight hundred thousand dollars."
In a statement, Rehabilitation Center administrator Jorge Carballo says the home was in compliance with current backup require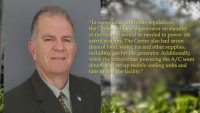 ments including ice and generator fuel. The homes generator did not power it's air conditioning.
Governor Rick Scott moved last week to revoke the nursing homes Medicaid eligibility. In addition to how the home responded to the emergency, there are also questions about how state regulators responded to numerous calls from the homes administrator.
Posted in State News |

No Comments »