October 23rd, 2017 by Mike Vasilinda
Video of kids being egged on to fight by officers in juvenile detention facilities, guards beating kids with brooms and flashlights is causing a concern in the state Capitol. Florida spends over 200 million a year locking kids up. Money FSU researcher Deborrah Brodsky says is not well spent.
"So, we're spending 200 million dollars a year on residential facilities in Florida. And we are getting 45-46 percent recidivism one year out. Kids are going back into the system. that to me shows abysmal failure" says Brodsky, who is the Director of the Project on Accountable Justice at FSU.
Last week, the Governor said he has confidence in the Juvenile Justice Secretary. lawmakers will hold more hearing on juvenile justice later this week.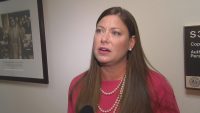 Posted in State News |

No Comments »