November 7th, 2017 by Mike Vasilinda
Legislation allowing the Governor to suspend local officials who pass laws ordering police not to cooperate with federal immigration officials cleared a key committee in the State Capitol today by a vote of 11 to 7. Sponsor Larry Metz told members he expected the Governor to be cautious in taking action under the bill.
"The removal provision is discretionary with the executive office of the Governor and the Governor himself, ultimately. So, they would have to do an investigation of any complaint official, public official violating the rule of law adherence act" Metz told Committee members.
More than 70 people signed up to speak at the committee. Mary Lopez was near tears as she voiced her frustration at new conference following the vote.
"I have a sibling. I am the oldest of four. and I have a sibling that has Autism, and I shouldn't be worried that that my parents may be deported, may be stopped, because of this" she told reporters.
Violating the terms of the bill, if it becomes law, would prohibit violating communities from receiving state grants for five years.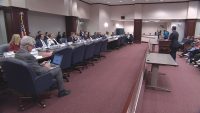 Posted in State News |

No Comments »