November 14th, 2017 by Mike Vasilinda
A woman who has filed a sworn complaint against Clearwater Senator Jack Latvala continues to work for the Florida Senate. As Mike Vasilinda tells us, the woman's attorney is concerned about retaliation against her client.
Senate Committee rooms were empty and locked Tuesday morning. One Senator called it unusual with a legislative session starting in seven weeks. The slowdown comes as Senators grapple with a now formal sexual harassment allegations against Clearwater Senator Jack Latvala.
"I believe you called him a  "bombastic bully?" We asked.
" I did say that."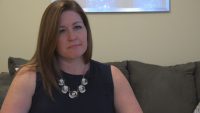 Tiffany Cruz is the attorney representing the woman who filed the complaint. The woman continues to work for the Senate.
"She's going to do her work as long as she can do her work without any retaliation coming to her. She's a strong woman" says Cruz.
Latvala denies the allegations, The Senate has hired the Tampa law firm Jackson Lewis, which specializes in representing employers. Lawyer Cruz says an action against the Senate hasn't been ruled out.
"That's certainly a right that she has. Its available to her, and she enjoys her work and she serves the people of Florida and that's what she likes to do" Continued Cruz.
Latvala was behind closed doors. His attorney has asked that  the Senate Rules Chairman Lisbeth Benacquisto be disqualified from the investigation based on our interview with her last week.
"Have you received a sworn complaint?"
"I have" she told us.
Latvala's lawyer argues Benacquisto violated Senate rules by verifying that a complaint had eve been filed.
And the Senate President Presidents office says the rules Chariman won't have to disqualify herself.
The woman who filed the complaint has yet to be interviewed by the Senates Law firm.
The attorney is also worried lawmakers are fast tracking the investigation to get it over with before the session starts in early January. She believes that will keep witnesses and victims from coming forward if they believe Latvala could regain his powerful chairmanship.
Posted in State News |

No Comments »