December 20th, 2017 by Mike Vasilinda
Clearwater state Senator Jack Latvala has resigned, less than 24 hours after a special master found probable cause that he was a serial sexual harasser. As Mike Vasilinda tells us, the resignation does not end the investigation into whether Latvala also sold his vote for sex.
The 33 page report found probable cause that Clearwater State Senator Jack Latvala inappropriately touched Senate aid Rachel Perrin Rogers and that he used inappropriate verbal and non verbal behavior. The most recent occurring this past October in this Senate elevator. Latvala Attorney Steve Andrews says it was his word against his accuser.
"The fact that it was a he said, she said, the judger decided to believe her evidence over our evidence" Andrews told us.
Latvala submitted his resignation letter mid afternoon Wednesday. In it, he maintained his innocence, just as he did in a recent news conference.
"I didn't do it and I'm not going to admit to something I didn't do" Latvala told invited reporters December fourth.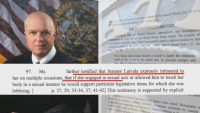 The retired judge serving as a special master also referred allegations of trading votes for sex with a lobbyist to law enforcement.
Not included in this report are hundreds of pages of exhibits, including explicit text messages from the Senator to the female lobbyist, which the Special master believes  more investigation. Layer Andrews says his client never got due process.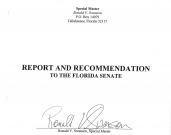 "We never had the opportunity to rebut those allegations, Neve knew about them, and had we known about them and had we known about them, I believe we would have rebutted them" Andrews told us after the resignation.
Less than two months ago, Jack Latvala controlled an 87 billion dollar budget and was the second most powerful member of the Florida Senate
Late this afternoon the Department of Law Enforcement said it had received the Latvala referral and had begun a preliminary review of the information.
Posted in State News |

No Comments »