January 22nd, 2018 by Mike Vasilinda
Bright banners draped the rotunda in the State Capitol this morning. They will be there all week as advocates hope to push children's issues to center stage for lawmakers. The annual event brings thousands to the Capitol to point out what kids need or are lacking. Josh Talkington of Eckerd Connects says it is a chance for advocates to share success stories.
"So anything we can do to move the needle a little bit, as far making their progress a little bit better, making the world a little better for them, putting them on an even playing field. That's why we are excited about" says Talkington.
Tomorrow, state officials will read to elementary students during a Storybook Village in the Capitol courtyard. There will also be a teen town hall meeting and a news conference to talk about the heath and well being of all children.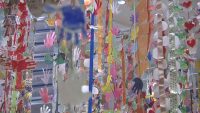 Posted in State News |

No Comments »