January 25th, 2018 by Mike Vasilinda
The state's ban on smoking medical marijuana was in court today, where as Mike Vasilinda tells us, patients argued the ban is hurting them and is unconstitutional.
Cathy Jordan has legally smoked marijuana, as a medical necessity, since April of 2013.  It is the only drug that has kept her ALS, better know as Lou Gehrig's Disease, at bay.
Cathy is one of three patients suing the state, hoping to overturn Florida's ban on smoking medical marijuana.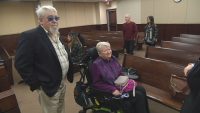 "We're fighting for her right to life, really, that's what it boils down to" says husband Robert.
The Constitutional Amendment approved by voters says only that it doesn't permit smoking pot in public. Cathy's lawyer, Jon Mills, says that means it can be smoked in private.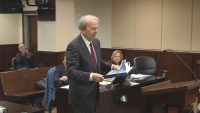 "There's no question that the definition of medical marijuana in this constitutional  provision includes smokable marijuana" Mills told the court.
But the state argues the constitutional silence gives it has the power to ban all smokable marijuana.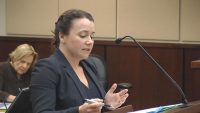 "There is no express requirement that smoking medical marijuana has to be allowed under the amendment" says Assistant Attorney General rachel Nordby.
The judge promised a quick ruling. Cathy's husband says her life depends on it.
"Noticeable difference? We asked.
"Noticeable difference!"
"What would happen if you had no supply of smokable marijuana?
"Cathy would die. She would die."
To which Cathy responded:  "We're leaving Florida. We'll find somewhere."
The same judge earlier this this week refused to throw out a challenge to the states ban on growing marijuana.
The smoking ban was sought by most law enforcement. They argued to lawmakers that medicine isn't smoked and second hand smoke could impact other in the home.
Advocates say vaporizing or eating marijuana does not capture all of the 400 cannabinoids contained in the original plant, which make smoking it more effective than eating or vaping.
Posted in State News |

No Comments »