January 26th, 2018 by Mike Vasilinda
Nine FSU Fraternity leaders charged with felony hazing in the death of a pledge in November were due in court this morning. Their hearing was postponed but new police body cam video shows, as Mike Vasilinda tells us, another fraternity thumbing their nose at a ban on greek activity.
One week after the death of an FSU fraternity pledge and just four days after FSU President John Thrasher banned all greek activity as a result.  This is what FSU police found at 3 Am at the fountain in front of the administration building.
Fratties, Fratties was what police heard as they walked up to the main entrance.
The  video isn't dramatic, but the message was a collective middle finger to the university and the greek ban.
We asked FSU President John Thrasher about his first reaction.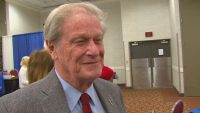 "I was mad. I was mad" said Thrasher.
Following the death of 20 year old Andrew Coffey at a Pi Kappa Phi party, in which nine fraternity leaders were charged with felony hazing, Thrasher vowed to create a new normal.
Speaking at Capitol Tiger Bay, he told the group: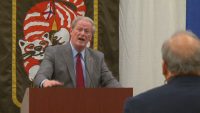 "Frankly, if this happens again, I'm going to be very very concerned, and I hope their national organizations are also."
But nearly three months later, it is proving difficult.
"Isn't it kind of a sign that the effort isn't working?" We asked.
"It's not. It's not. That's why I said something about the national organizations. They need to get involved in this. If they don't I'm worried, Mike, that we are going to lose fraternities, and I don't want that to happen."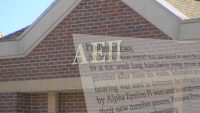 The Alpha Epsilon Pi was also recently dismissed from FSU…. It was found responsible for an extended six week hazing of pledges that continued until at least the day after Coffey died. State Attorney Jack Campbell is investigating.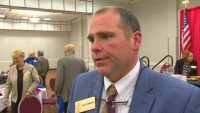 "Once we get the results of it, we'll take a look at it and decide if that constitutes a violation of Florida law" says Campbell.
This chapter of Pi Kappa Phi was disbanded by its national organization. The house is now empty.
The property is controlled  by a company owned by alumni. It will likely be rented to another greek organization…if greek life weathers this storm.
While threatening to pull the plug on Greek life if there is another incident, FSU's President did say he expects to lift the current interim ban in the near future.
Posted in State News |

No Comments »