April 11th, 2018 by Mike Vasilinda
A 21 year old North Flordia man who has been involuntarily confined is the latest to have his weapons seized under a state law enacted a month ago. As Mike Vasilinda tells us, police two assault style rifles with more than 800 rounds of ammunition.
Christopher Mark Newhouse got his first of two hearings under the new state law that allows police to seize weapons if they believe someone is a danger to themselves or others. 
"Court is now in session."
In an affidavit, police say Newhouse threatened to kill police officers as recently as February. He was taken into protective custody once in February and again in March.
Police seized two assault style rifles this past Friday: including An AR-15  with 836 rounds of ammunition. A third gun he was know to own was reported stolen.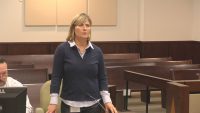 Theresa Flurry is the attorney for the Tallahassee Police Department.
"At the same time, the defendant reported that the other two rifles were in the car, but they were in the trunk, so they were not stolen" Flurry told the court.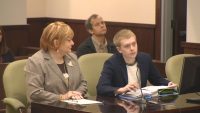 Under questioning from Judge J. Lee Marsh, the 21 year old Newhouse indicated he hoped to get the weapons back.
"Do you know that you are not allowed to possess, use, or acquire any additional firearms or ammunition."
"At the current time, yes your honor" he responded.
"Okay, and do you have any others in your use, possession or control?"
"No."
"Okay, lets keep it that way" 
The court will decide next week just how long Mr. Newhouse will be without his guns. 
After the hearing, both sides discussed a possible agreement going forward.
When asked about the discussion, Flurry told us: "That we can talk about at a later time"
So we tried to ask Mr. Newhouse about his case:
"Mr. Newhouse, are you a danger to yourself or others?"
"Negative"
"No comment, no comment, no comment" replied his grandmother, who represented him before the court.
But getting his guns back is for others to decide.
After next weeks hearing, the law allows weapons to be removed from someone for up to a year before another hearing is required. Across the state nearly two dozen cases have been filed since the law was signed on March 9th.
Posted in State News |

No Comments »