April 16th, 2018 by Mike Vasilinda
Five of the nine men charged in the hazing death of a 20 year old FSU fraternity pledge have entered guilty pleas. As Mike Vasilinda tells us, four remaining defendants turned down the deal and will face felony charges. 
20 year old Andrew Coffey died last November after being given an entire bottle of Wild Turkey. 9 Were charged with felony hazing. On Monday 5 entered guilty pleas.
Conner Ravelo was the first to plea. He bought the bourbon using a fake ID. Ravelo is the only one to apologize in court.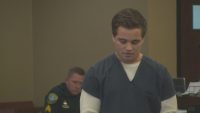 "I apologize for all of this and I make a promise to you in moving forward I will be  part of the solution and not part of the problem" Ravelo said as he faced the Coffey family.
With her husband gently rubbing her back, Andrew Coffey's mother, Sandra, was near tears as she told the court about her son.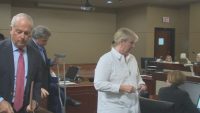 "We are haunted by the image of Andrew being left alone in a room unable to get help from his own and without a single brother coming to his aid" said the mother.
Three of the remaining four defendants face a June Trial date. A fourth could be delayed into the fall.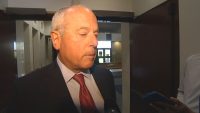 David Bianchi, the attorney handling the Coffey Family's civil suit, believes the other four will try to make Andrew the guilty one.
"And that's sickening. It reminds me of a sexual assault case" says Bianchi.
But defense attorney Fed Conrad says FSU bears part of the blame.
"Why FSU isn't being held accountable, I have no idea. Maybe if the administration would get out of the skybox and come down to the parking lot during a football game they would realize they have a problem." 
FSU banned alcohol on campus following the death. It has since been lifted.
In addition to 60 days in the County jail, each of the five will serve two years probation, participate in anti hazing events, and apologize to the Coffey family. Christopher Hamlin has asked to serve his time in the Hillsborough County Jail, Brett Birmingham is asking to serve his time in either Santa Rosa or Wakulla County.
Posted in State News |

No Comments »