August 30th, 2016 by Mike Vasilinda
The state Division of Elections says that 1.7 million had voted early or by mail in ballot before the first polls opened this morning. As Mike Vasilinda tells us, despite several minor incidents, voting across the state was without major incidents.
Turnout was described as steady but not overwhelming across the state. It took Joanna Snyder about seven minutes to cast her ballot at this Tallahassee precinct.
"How'd it go in there?" we asked.
"Pretty well, I studied the ballot beforehand."
The Secretary of State reported precincts in Flagler and Lee Counties were late opening
but were quickly up and running.
State officials say one precinct in Miami Beach had to be moved because of mosquito spraying over concert about Zika.
A precinct slated to open at the Botanical Gardens on Miami Beach had to be moved at the last minute, says Secretary of State Ken Detzner because the gardens were being sprayed to combat Zika concerns.
"The Supervisor of Elections has a notice there, and an employee at the location redirecting any voters that turn out to the city hall, which is one block away."
The FBI has been warning some states to be alert for hackers seeking access to voting systems. Detzner says Florida was not one of the states being warned.
"we have put in place all the safeguards we fell are necessary for a safe and secure election."
For the Curry Family, it was four month old Dawson's first election,  making voting a family affair. Mother Molly says a child changed her thinking about voting.
"Well, I feel like I'm generally voting for her, I mean, she's the future. So all the decisions we make now will impact her."
Contribution Link reported that 294 million was given to state legislative races even though a full third of the legislature was elected without opposition.
As of yesterday afternoon, almost one point two million mail in ballots that had been requested were still outstanding. The ballots must be in elections officials hands by the time the polls close at 7, unless they are coming from overseas, in which case they must be postmarked by midnight and arrive within ten days.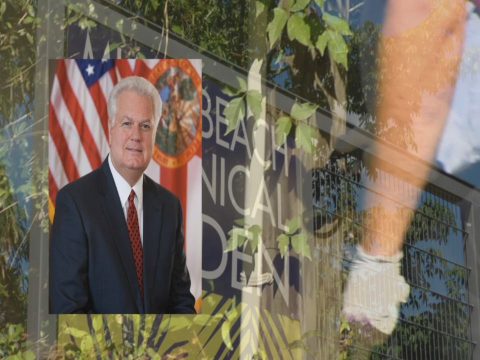 Posted in State News |
No Comments »